Whether you're planning to open a new restaurant, renovate your existing establishment, purchase new equipment, or expand your operations, our diverse financing options will cater to your specific needs. Trust BorrowPartner to be your reliable partner in achieving your restaurant's financial goals.
Whether you run a single-unit, a multi-unit, or a restaurant chain, we offer many working capital loans for restaurants, including flex-pay loans, business lines of credit, and even interest-only payback loans. All our restaurant financing solutions are designed to provide you with larger loan amounts, longer terms, and flexible repayment terms.

The banks will come up with a list of reasons why they won't help you. Not enough time in business. Not enough collateral. Not enough profit in last year's financials. Or, their list of requirements will take longer than you can afford to wait. And your customers won't wait for the bank.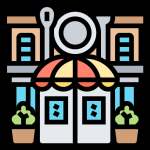 BorrowPartner offers all the financing solutions you need to fund your restaurant business and has the expertise to assist you with your solution selection.
Our experienced team will work closely with you to understand your objectives and craft a financing solution that aligns perfectly with your business plan.
Here are some financing options available to the restaurant industry:
Working Capital Loans: To sustain day-to-day operations, manage payroll, and purchase inventory, working capital loans provide the financial support you need. Whether you require funds during seasonal slumps or want to capitalize on booming periods, our working capital loans are built to accommodate your restaurant's cash flow demands. We offer flexible repayment terms, empowering you to stabilize your business and seize growth opportunities.
Restaurant Equipment Financing: Upgrade your kitchen or bar equipment with our specialized restaurant equipment financing. From state-of-the-art appliances to robust cooking apparatus, we'll help you acquire the necessary tools to enhance your operations and deliver an exceptional customer experience.
Restaurant Expansion Loans: Planning to take your restaurant to the next level? Our restaurant expansion loans are designed to fuel your ambition. Whether you're considering opening a new location, renovating your existing space, or expanding your seating capacity, we have the financial solutions to make your dream a reality.
Restaurant Acquisition Financing: Looking to acquire an existing restaurant or expand your portfolio through acquisitions? BorrowPartner offers restaurant acquisition financing to support your growth plans. We understand the unique nuances of this type of transaction. 
Our financing terms are designed to be flexible, ensuring that repayments are manageable. Our expert team will guide you through the entire process, ensuring a seamless experience from loan application to disbursement. 
We work with restaurant and food businesses every day and understand your industry's concerns and frustrations.
We know you need to focus on your business.
We partner with best-in-class, business-friendly lenders – direct lenders and small business-focused banks, so you can get your funds in hours or days, with the best rates, the most flexible terms, and, in most cases, even pay off the financing early if you choose to.  
We honed our skills through thousands of transactions and hundreds of millions of dollars in financing. We want to leverage this experience to serve you better.  
How restaurants & retail food establishments use BorrowPartner's financing solutions
Renovations
Equipment financing
Expansion projects
New location
Licensing
Franchise obligations
Kitchen remodeling
Marketing campaigns
Debt consolidation
 Working capital
At BorrowPartner, we are on the side of responsible borrowing. We are in it for the long run, for lasting relationships, and for satisfied clients. We are on your side.
Get the financing your business needs to grow
Applying for financing with BorrowPartner does not affect your personal credit score