Equipment financing is a type of asset-based financing, where the equipment itself is used as collateral for the financing.
Equipment financing allows businesses to secure and leverage critical equipment today while paying for it over time.
It typically offers favorable interest rates.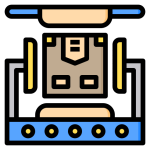 Established businesses and less established ones​
Whether your small business is established or just starting up, BorrowPartner will partner with you and your company to secure the best equipment financing for you.
Equipment financing is ideal for new or used mission-critical equipment essential to the operation of your business.
Flexible terms to maximize your opportunity​
$0 down payments are available for most established businesses, and down payments of 20%+ are required for startups.
Review and approval of completed applications are typically completed the same day. Funding can occur the same day as well. 
BorrowPartner offers Equipment Financing in all 50 US states and the District of Columbia.
Many Ways to Use Equipment Financing
Equipment Financing is perfect for

Our customers also use it for
How to get started with Equipment Financing?
You can do it yourself
Start the application process by completing the equipment financing online application and submitting copies of your last 3 business bank statements.
The application is easy and without commitment.
Or, we can assist
Complete our contact form and select Financing Assistance in the Inquiry Type, and a representative will call you promptly. BorrowPartner assists you every step of the way.
Either way, after receiving your completed financing application, our advisors will promptly review the information and the documents you included and submit the file for prompt processing.
How does Equipment Financing work?
After processing your Equipment Financing application, our advisors will send you the best available offers. Your offers will include the financing amount, the financing term, the down payment where applicable, and the payment amount and schedule. 
You select your preferred equipment financing offer and send it back to your BorrowPartner advisor.
You receive your approval within a few hours, often the same day. 
You enjoy the flexibility provided to you by your new equipment today while paying for it over time. 
That's it.
Get the financing your business needs to grow
Applying for financing with BorrowPartner does not affect your personal credit score