Commercial Real Estate Financing
Commercial real estate financing for Fix and Flip, Fix to Rent, Multifamily, New Construction, or Rentals for real estate investors.
Funding for unique property types including land and specialized real estate.
Funds can be used for purchase, refinance, construction development, bridge financing, property portfolios, and cash-outs.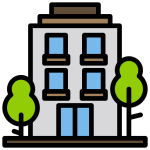 Established investors and less established ones
Whether your small business is established or just starting up, BorrowPartner will partner with you and your company to secure the best real estate financing for you.
Story-based underwriting. First-time investors, non-profit, and foreign national financing available.
Flexible terms to maximize your opportunity​
From 12 months to 30 years
Adjustable loans, interest-only or amortized up to 30 years.
Loans secured by most commercial and investment residential real estate.
Very friendly early pay-off provisions in most financings.
Up to 100% LTV is available depending on the investment type and investors' related experience.
650+ credit scores preferred. 
Real Estate and Construction Financing in all 50 US states and the District of Columbia.
Many Ways to Use Real Estate Financing
Real estate financing is perfect for

Our customers also use it for
How to get started with Real Estate Financing?
You can do it yourself
Or, we can assist
Complete our contact form and select Financing Assistance in the Inquiry Type, and a representative will call you promptly. BorrowPartner assists you every step of the way.
Either way, after receiving your completed financing application, our advisors will promptly review the information and the documents you included and submit the file for prompt processing.
How does Real Estate Financing work?
After processing your application, our advisors will then send you the best available term sheet(s) for your needs.
Your offers will each include the financing amount, the loan term, the LTV percentage, the loan fees, and the payback schedule.
You select the real estate financing offer that you prefer, approve the application, and send it back to your BorrowPartner advisor for processing with our vetted, best-in-class lending partners.
You receive your funds. You enjoy the flexibility provided to you by your new financing, and pay back your set repayment amount for the agreed period.
You focus on succeeding with your real estate investment.
That's it.
Get the financing your business needs to grow
Applying for financing with BorrowPartner does not affect your personal credit score