Invoice factoring, also called accounts receivable factoring, allows businesses to increase cash flow by selling some or all of their unpaid invoices to a factoring company at a slight discount and getting paid early rather than waiting 30, 60, or 90  days for it their customers' payments.
With Invoice Factoring, your business gets access to capital without increasing its debt. Once the relationship is established, you can factor one or more invoices at any time and get paid within a day.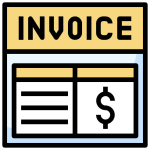 Established businesses and less established ones​
Whether your small business is established or just starting up, BorrowPartner will partner with you and your company to secure the best available Invoice Factoring for you.
Invoice factoring is ideal for Business-to-Business or Business-to-Government invoices with credit-worthy customers.
Flexible terms to maximize your opportunity​
The Factoring Advance Amount is generally between 80-95% of the invoice value. The remaining 5-20%, less the discount rate, are then remitted to you upon receipt of the invoice payment from your customer.
The Accounts Receivable Purchase Agreement typically has a term of one year.
The discount rate is variable. It is calculated based upon your accounts receivable aging, the invoice(s) sold, your customer's profile, and your company's profile.
BorrowPartner offers Invoice Factoring in all 50 US states. 
Many Ways to Use Invoice Factoring
Invoice factoring is perfect to

Our customers also use it for
How to get started with Invoice Factoring?
You can do it yourself
Start the application process by completing the invoice factoring online application and submitting copies of your aging Accounts Receivable report.
The application is easy and without commitment.
Or, we can assist
Complete our contact form and select Application Assistance in the Inquiry Type, and a representative will call you promptly. BorrowPartner assists you every step of the way.
Either way, after receiving your completed financing application, our advisors will promptly review the information and the documents you included and submit the file for prompt processing.
How does Invoice Factoring work?
After processing your application, our advisors will then send you the best available invoice factoring offers for your business. Your offers will include the advance amount and the discount rate.

Select the invoice factoring financing offer you prefer, approve the application, and send it back to your BorrowPartner advisor.
We will set up an Accounts Receivable Purchase Agreement for your company which will provide you access to an online platform to submit the invoice(s) that you wish to factor.
Once that is set up, simply submit a copy of your invoice(s) to factor at any time. Within a day, you will receive the factoring advance (80%-95%) less the initial factoring fee in your business checking account. When your client pays the invoice, the reserve, the remaining portion of the invoice less the periodic factoring fee is transferred to your account.
You enjoy the flexibility provided to you by your invoice factoring agreement.
That's it.
Get the financing your business needs to grow
Applying for financing with BorrowPartner does not affect your personal credit score