Merchant Advances are advances of capital structured for merchants and small businesses that accept credit card payments from their customers.
With a Merchant Advance, your business gets access to a one-time infusion of capital that it then repays, along with fees, based on the percentage of your credit card sales receipts.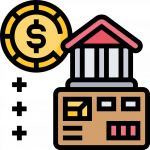 Established businesses and less established ones​
Whether your small business is established or just starting up, whether your credit is perfect or you have bad credit, BorrowPartner will partner with you and your small business to secure the best available Merchant Advance for you.
Merchant Advance amounts and repayments are based on several factors, including your recent business credit card receipts, business financial fundamentals, annual revenues, existing debt, credit history, and more.
Flexible terms to maximize your opportunity​
The repayment schedule varies based on payback amounts.
The payback amount is variable. It is calculated based on a fixed percentage of your future business credit card receipts.
BorrowPartner offers Merchant Advances in all 50 US states and Canada. 
We proudly offer reduced fees for veteran-owned businesses.
Many Ways to Use a Merchant Advance
Merchant Advances are perfect for

Our customers also use them for
How to get a Merchant Advance?​​
You can do it yourself
Start the application process by completing the merchant advance online application, indicating your desired merchant advance amount,  and submitting copies of the few required documents.
The application is easy, without commitment, and does not impact your personal credit in any way.
Or, we can assist
Complete our contact form and select Application Assistance in the Inquiry Type, and a representative will call you promptly. BorrowPartner assists you every step of the way.
Either way, after receiving your completed financing application, our advisors will promptly review the information and the documents you included and submit the file for prompt processing.
How do Merchant Advances work?
After processing your application, our advisors will then send you the best available merchant advance offers for your business.
Your offers will include the merchant advance amount, the expected payback percentage of credit card receipts, the frequency of the payback, the total advance payback amount, and the merchant advance fee.
You select the merchant advance offer that you prefer, approve the application, and send it back to your BorrowPartner advisor.
Within a day, sometimes the same day, you will receive your advance in your business checking account.
You enjoy the flexibility provided to you by your merchant advance. You repay based on the fixed percentage of your credit card sales receipt.

That's it.
Get the financing your business needs to grow
Applying for financing with BorrowPartner does not affect your personal credit score