SBA Loans are installment loans structured for small businesses, backed by the US Government's Small Business Administration (SBA), and issued by banks and private lenders.
The government backing of these fixed-rate loans is designed to make it possible for small businesses to access capital at competitive, prime-plus rates.
With an SBA Loan, your business gets access to a one-time infusion of capital that it then repays, along with interest and fees, on a set schedule, over a set term length.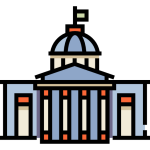 BorrowPartner features both the 7a and the 504 loans:
The 7a is the SBA's most common loan program and can be used for short and long-term operating capital, refining current business debt, or buying a business.
The 504 is a commercial estate loan that can be used for assets that promote business growth and job creation, including land, buildings, or long-term machinery.
To qualify for SBA loans, businesses must:
Be considered a small business, as defined by the SBA
Be engaged in doing business in the United States
Meet the current SBA Size Standards, which vary based on the North American Industry Classification System Codes (NAICS).
The maximum loan amounts and terms are based on several factors, including your business financial fundamentals, your personal credit profile, the business's annual revenues, profit, existing debt, credit history, and more.
Flexible terms to maximize your opportunity​
From $250,000 to $5,000,000
Lenders and borrowers can negotiate the SBA Loan interest rate, but it may not exceed the SBA maximum.
The payback amount and schedule are fixed so you can plan those payments in advance.
BorrowPartner offers SBA Loans in all 50 US states.
Many Ways to Use an SBA Loan
Our customers also them for
You can start yourself
Start the application process by completing the SBA Loan Application Short Form.
The form is short and easy, without commitment, and necessary to start the process quickly. It does not impact your personal credit in any way.
Or, we can assist
Complete our contact form and select Application Assistance in the Inquiry Type, and a representative will call you promptly. BorrowPartner assists you every step of the way.
Either way, we will guide and assist you as we prepare your SBA Loan application package. The completed package will then be submitted to one of BorrowPartner's vetted SBA Preferred Lenders for processing.
After processing your short SBA form, our advisors will then send you the list of required supporting documents for your financing. BorrowPartner will guide you and help you produce and gather these documents. The completed loan package will then be submitted to one of our Preferred SBA lenders.
You will be notified of your approval within a few days, generally subject to proper third-party verifications.
After receiving and processing these verifications, you will receive these funds in your business banking account.
The entire process typically takes about six weeks.
You enjoy the flexibility provided to you by your SBA Loan. You pay back your set repayment amount for the agreed fixed period.
That's it.
Get the financing your business needs to grow
Applying for financing with BorrowPartner does not affect your personal credit score