You have customer orders to process, but you don't have the suitable materials, or you don't have enough people to complete production on time. Or, you need to invest in new machinery. Or, the large project you just delivered won't be paid for 30 days, and you need the capital now.
The bank won't help you. Not enough time in business. Not enough collateral. Not enough profit in last year's financials. Or, their list of requirements will take longer than you can afford to wait. And your customers won't wait for the bank.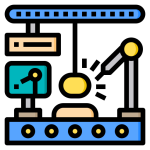 BorrowPartner offers all the financing solutions you need to fund your manufacturing business and has the expertise to assist you with your solution selection.
We work with manufacturers and understand your concerns and even frustration sometimes. We work with direct lenders and business-minded banks daily and know their strengths, limitations, and pricing.
We partner with the best-in-class, most business-friendly lenders, so you can get your funds in hours or days, with the best rates, the most flexible terms, and, in most cases, even be able to pay off the financing early if you want.
We honed our skills through thousands of transactions and hundreds of millions of dollars in financing. We want to leverage this experience to serve you better.  
How manufacturers use BorrowPartner's financing solutions
Raw materials
Parts
Labor
Tools
Machinery
Equipment acquisition or replacement 
Distribution channel expansion
Quality control
Cash flow

to process new orders 

Distribution channel expansion
Process improvement
Repairs
Increase production capacity
Supply chain
Throughput
At BorrowPartner, we are on the side of responsible borrowing. We are in it for the long run, for lasting relationships, and for satisfied clients. We are on your side.
Get the financing your business needs to grow
Applying for financing with BorrowPartner does not affect your personal credit score