Manufacturing leverages human labor, tools, or machinery to process raw materials or parts into finished goods. Manufacturers then sell those finished goods at prices higher than the values of the raw materials used. 
Manufacturing is integral to the US economy, but it is a complex business model. 
Parts and materials must be available, just in time. You must have the cash flow to support new orders before your customers pay you. 
Your equipment must be available and working. And be able to scale. You might need to increase its capacity or even replace it to keep up with the competition and clients' orders. 
Supply chain and distribution channels must be kept optimized. 
And your team must focus on process execution, quality, and throughput, unaffected by cash flow constraints.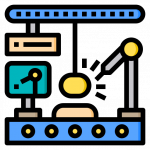 It should all work well together, and most of the time, it does, but sometimes, well, it does not. 
You have customer orders to process, but you don't have the suitable materials, or you don't have enough people to complete the production on time. 
Or perhaps, you need to invest in new machinery. 
Or, the large project that you just delivered, and for which your client hasn't paid yet, is stretching your cash flow. The client is solid, but they could not pay you until the delivery was completed, and now they need two weeks to process the payment. 
You knew you needed a cash infusion yesterday, but you thought you could count on the bank. 
The bank? They said no.
Not enough time in business. Not enough collateral. Not enough profit in last year's financial.
Or, putting together their requirements list will take longer than you can afford to spend or wait. And,  they may have more requirements on the back end. Who knows?
You do know the bank won't be able to help you on time, if at all. 
Without them, where do you go? And which financing option is best for your business right now? 
Business must go on. 
Financing options and choices
The rates for the financing options that might be available now are higher than those from the bank. 
And you don't know these firms. 
So, you are concerned. 
Don't be. You might not need to pay those high rates. 
And also, we are here. BorrowPartner offers all the options you need to fund your manufacturing business and has the expertise to assist you with your selection. 
We didn't start yesterday. We worked, and still work, with direct lenders and banks, and we understand their strengths and limitations. We worked with manufacturers and understand their concerns, frustration, and even confusion sometimes. 
Thousands of transactions and hundreds of millions of dollars in financing experience. We understand the limits and benefits of business financing, and we want to leverage this experience to serve you better.   
And rates are relative. You measure Return on Investment (ROI) for everything in business. You should do so for your financing as well. 
If the cost of financing, including interest fees and all, for the acquisition, expansion, or machinery you need is less than the ROI you expect from that transaction, doesn't it make sense to proceed? 
In the best conditions possible, of course. But, why miss it? 
Conversely, if the cost of financing turns the transaction to a negative ROI, why proceed? 
You won't need to worry about it here. We will work with you to make your financing work for you. 
We always start with the best-priced financing options and evaluate whether they are available to you. 
And we proceed from there. And the last ones we consider are the pricier financings. But we will always work hard to provide you with the best option for you.
At BorrowPartner, we are on the side of responsible borrowing. 
Decision tree - Which financing is best for your business
Get the financing your business needs to grow
Applying for financing with BorrowPartner does not affect your personal credit score